OUR PRINCIPLES
Across all our varied work, for all of our clients, we apply the same core principles.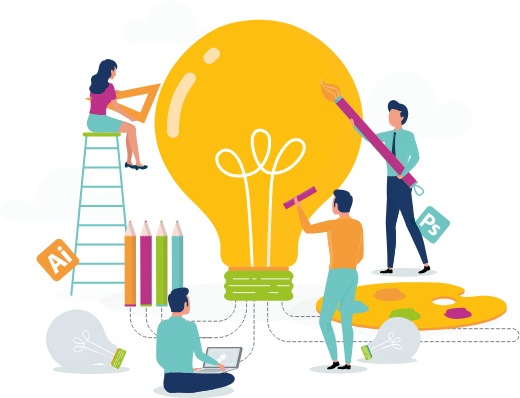 BRIGHT DESIGN IDEAS
We're a young company with a modern outlook.
Our team consists of highly skilled graphic designers across a wide range of design software.

SUPER-FAST PRODUCTION
We provide round-the-clock service in two time zones.
Our large team ensures we have capacity to turn around any request in 24 hours or less.

WORKING WITHIN YOUR BRAND
We learn your brand guidelines and crosscheck our outputs against them for every job.
We produce formatting guides and brand guidelines for you, if you don't already have them.

ATTENTIVE ACCOUNT MANAGEMENT
We love getting to know our clients and understanding your specific requirements and the nuances of your business.
Our head office is in central London and our Project Managers can work on-site at your offices for specific projects.

COMPREHENSIVE QUALITY CONTROL
We commit substantial resources to our QC process – as much as 20% of the total production time.
We have dedicated QC experts, separate from the production team, to give every single task a fresh pair of eyes.

ADVANCED DATA SECURITY
We're ISO27001 certified – the gold standard in information security management.
We pride ourselves on the importance we place on the security of client data.